Al Di Meola: Classics
Solos, Scores and Missing Music from 1976-1983
by Paul Bissell
132 total pages
After twenty years, the transcribed holes left in the Music•Words•Pictures songbook are finally filled! Al Di Meola: Classics is loaded with music and commentary about the amazing, electric, and virtuosic music Al Di Meola created on his first five solo recordings (1976-1983). This book completes most all of the 'missing' solos, interludes and riffs from theMusic•Words•Pictures songbook and gives complete scores of classic pieces not contained within that text. Also included is a 7 page Styles and Techniques analysis of Di Meola's playing during those early years, short commentary about each of the selections and a complete full score transcription to Kiss My Axe from 1991.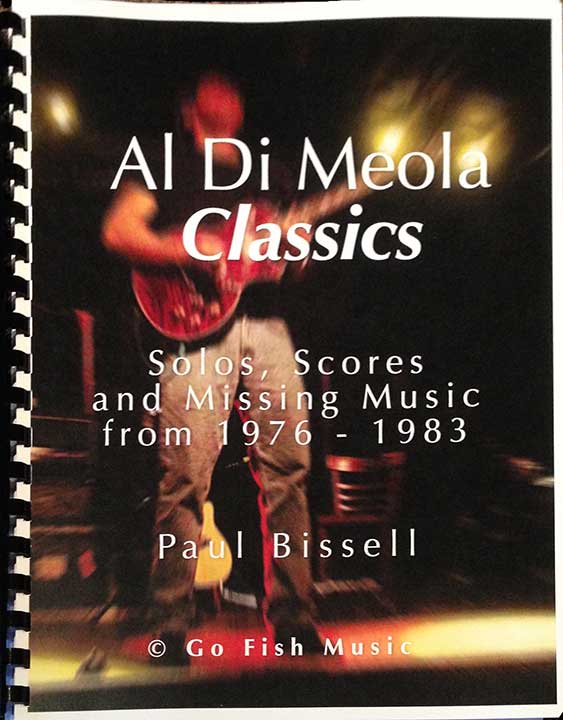 (Click images)

(Sample 7 pages 700k)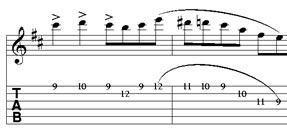 excerpt from the Elegant Gypsy 'flanger' solo
NEW - PDF delivery only. File will be sent to email address listed during checkout.
Price: $16.99 Add to Cart
Table of Contents:
| | |
| --- | --- |
| Forward | |
| Notes about this Book | |
| Al Di Meola: Styles and Techniques | |
| Transcriptions with Analysis | |
| Land of the Midnight Sun | (missing parts, solos) |
| Midnight Tango | (missing parts, solos) |
| Race with Devil on Spanish Highway | (missing parts, solos) |
| Elegant Gypsy Suite | (solos) |
| Egyptian Danza | (solos) |
| Dark Eye Tango | (Complete score) |
| Casino | (missing parts, solos) |
| Alien Chase on an Arabian Desert | (Complete score) |
| Dinner Music of the Gods | (missing parts, solos) |
| Al Di's Dream Theme | (solos) |
| Electric Rendezvous | (missing parts, solos) |
| Ritmo de la Noche | (solos) |
| Kiss My Axe | (Complete score) |
| Supplemental Transcriptions | |
| Flight Over Rio | (solos) |
| Chasin' the Voodoo | (solos) |
| Cruisin' | (solos) |
| Sequencer | (solo) |
NEW - PDF delivery only. File will be sent to email address listed during checkout.
Price: $16.99 Add to Cart