Tenor Madness - Instruction, Advice and Excercises for Advanced Tenor Technique
This is the book we've all waited for. While working all techniques pertaining to modern tenor playing, Tenor Madness! concentrates on the more advanced technical challenges such as sweeps (scrapes), sweeps with crosses (figure 8's), quick singles, and flam usage. This is not just a "lick" book, although there are many killer passages. You are guided to create you own passages that express YOUR ideas. Don't just copy, MASTER your instrument! The exercises introduce new variations and techniques one at a time so each part can be mastered. All of the exercises use multiple drums. If you've ever seen a tenor player or tenor line and thought "Whoa...what was that!" this book is for you. Ninety Four pages of great exercises and instruction.

a PDF file from the "Combinations" article based on Tenor Madness.
Another PDF page from the method book is HERE.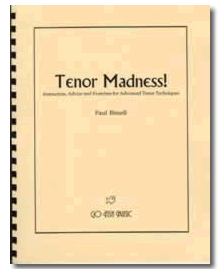 94 Pages !
As with all Go Fish Music products, Tenor Madness! is professionally computer engraved, printed and bound so that it lays flat on a music stand.
Price: $14.00 Add to Cart